Telephone Consumer Protection Act (TCPA) of 1991 empowers The Federal Communications Commission ("FCC") to issue rules and regulations implementing the TCPA. Among other things, the TCPA allows individuals to file lawsuits and collect damages for receiving unsolicited telemarketing calls, faxes, pre-recorded calls or autodialed calls. The recent revision of this act expands the reach to the use of SMS or text messaging.




You can find the entire document located at the link provided below. We suggest that you seek legal help if you require interpretation of thiese documents:
http://transition.fcc.gov/cgb/policy/TCPA-Rules.pdf


http://transition.fcc.gov/Daily_Releases/Daily_Business/2012/db0215/FCC-12-21A1.doc

In short: You can no longer send marketing/promotional text messages to phone numbers that have not expressly and verifiably opted in to receive them. We strongly suggest that you delete your existing list (if you have one) and start from scratch.
---
Here is how you can compile a verifiable opt-in list of people who want to receive your promotional messages.
Requirements
1. You need to inform your customers of the nature of marketing messages and their frequency. For example: "Opt-in to receive last-minute specials from Great Salon. We will send you up to 2 text messages per month"
2. Inform your customer the cost they may incur as the result of their receiving these promotional messages. For example: "Standard carrier charges apply"
3. Inform your customers how they can opt-out in case they no longer wish to receive your promotional messages. For example: "To opt-out reply with words STOP"
4. Create a verifiable process to enable your customers to sign up.
Practical Implementation
Step 1 - Delete any previous marketing lists
You must clear all previous lists you created for marketing purposes. In Millennium this means that the flag on customer profile indicating "Receive SMS Marketing" must be unchecked. Please contact Harms Software if you require assistance with this.
Step 2 - Optin
Generally there are two ways:
Written Method
Have a written document that explains the points explained above (#1, #2 and #3) where your customer can write down his or her cell phone number and signature. Date each entry. This constitutes a written opt-in. Keep this document in your files. An opt-in book, located at your reception would be a good place for it. Below is an example of an optin book:


Electronic Method
Have en electronic process in place through which your customers can opt-in using their cell phones. To support this method we assigned a special opt-in number 3022488237 for this purpose. You will also need your special opt-in keyword, select a 4-letter keyword and email-us your opt-in keyword and we will configure your account. When this is done you need to invite your customers to text the keyword to the opt-in number 3022488237.
There are many ways to do this. Here are some examples:
Create a banner in your salon or on your web site
Send a short paragraph in your email newsletter
Put a post on your Facebook page
Tweet or blog about it
Talk to your customer while she is in your salon
In short, you need to invite your customers to send a text message from their phone to 3022488237 and in the body of the message type the 4-letter keyword. The system will send them automated welcome message and this completes the process. Assuming that your keyword is MSCL then a banner like this would do the job: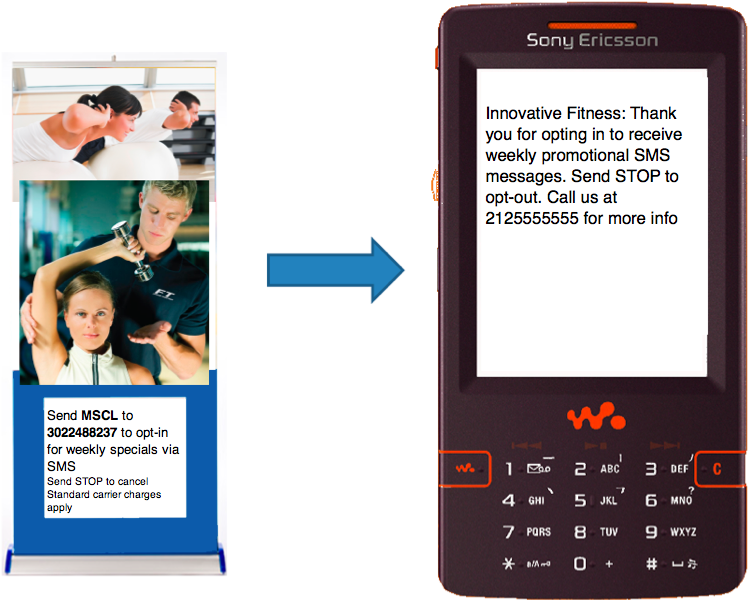 If a person complains in the future of receiving marketing messages, you have a proof of their voluntary opt-in.
Sending of promotional messages - rules
Send only as many messages as you disclosed in your opt-in promotion. For example, if you invited your customers to opt-in and promised them no more that 1 message per week, then you are not allowed to send 2 messages in a week.
Keep your messages short - 160 characters
Include opt-out phrase: Snd STOP 2 optout
Conclusion
It is your legal responsibility to send marketing messages only to the customers who identifiably opted-in to receive them. It is easy to have your customers opt-in. Penalties for each infraction (each text message) range from $500 to $1500.

DISCLAIMER: The above is our interpretation of the TCPA. We strongly encourage you to read the document for yourself and if needed seek legal help to interpret it.